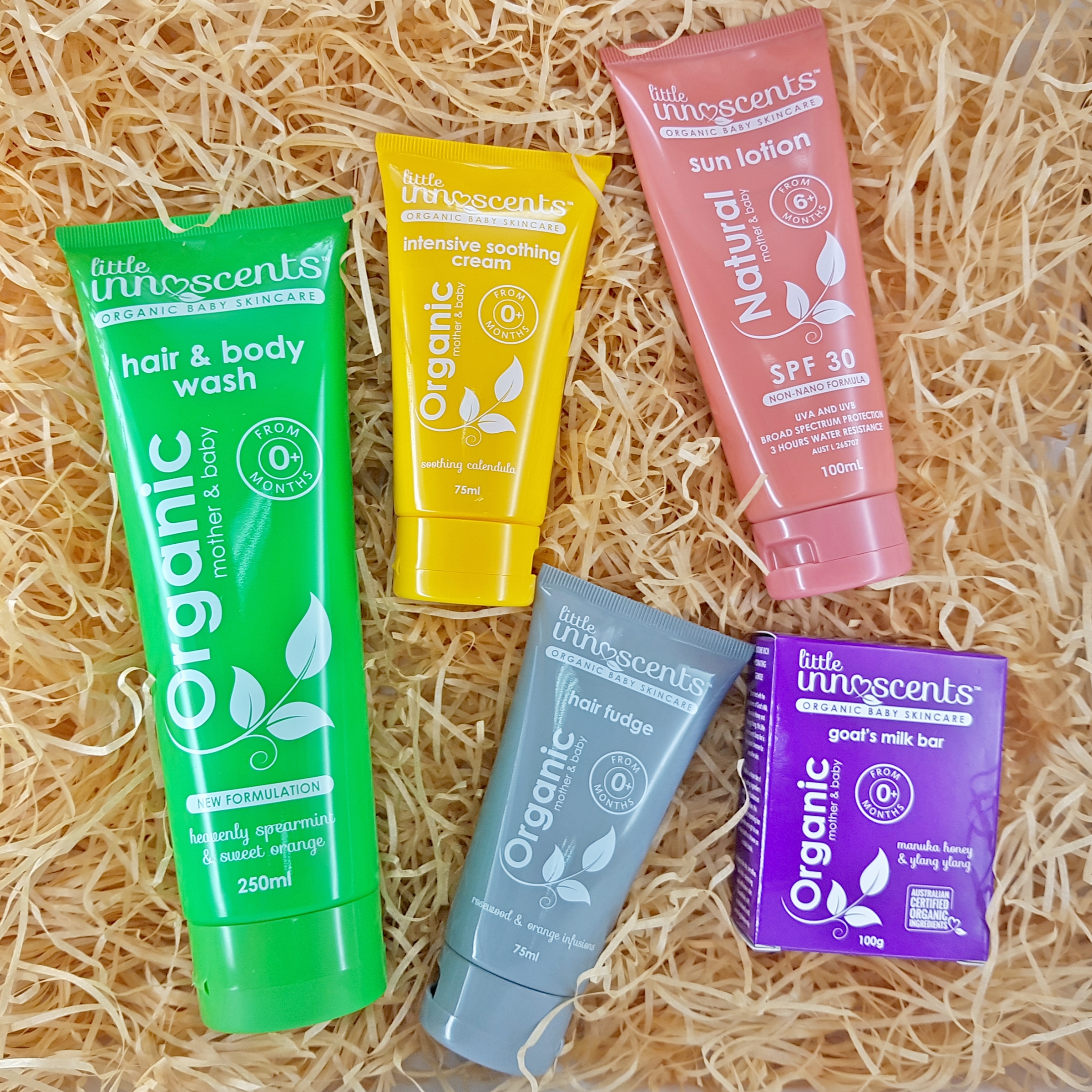 This Little Innoscents Daddy Care Pack is designed specially for fathers as fathers need to care for their skin too! From skin care to hair styling to sun protection, we got you all covered! Get this divine product selection all packed up in a gorgeous eco kraft gift box.
Contains:
x1 Hair & Body Wash – Spearmint & Sweet Orange OR Cherry Coconut*
x1 Goat's Milk Bar
x1 Intensive Soothing Cream
x1 Hair Fudge
x1 Sun Lotion SPF 30
*Please add a remark on which Hair & Body Wash you would like during checkout.
BATHING & CLEANSING
Use gentle, chemical free products such as our organic Goat's Milk Bar or Hair and Body Wash that will not dry out the hair and skin.
The Goat's Milk Bar is also great to be used as a facial wash.
SKIN CARE / TREATMENT
Use our organic Intensive Soothing Cream as an after shave lotion as it cools and moisturizes skin after shaving. The soothing ingredients also replenish and restore skin's balance.
Our Intensive Soothing Cream is great for dry, chapped or sunburned skin. Also helps to reduce inflammation of skin rashes.
This healing Intensive Soothing Cream is also works well to treat insect bites or minor wounds.
HAIR STYLING
Use our organic hair styling cream, the Hair Fudge to style hair without putting chemicals on your scalp.
FACIAL/BODY SUNSCREEN
Use our natural Sun Lotion SPF 30 which is completely free from chemical absorbers, as a facial or body sunscreen daily to protect the skin from the harsh,drying Malaysian sun, especially during golfing or other outdoor activity. It also contains soothing Vitamin E, Organic Green Tea, Cucumber and Rosehip extract to nourish and hydrate the skin.