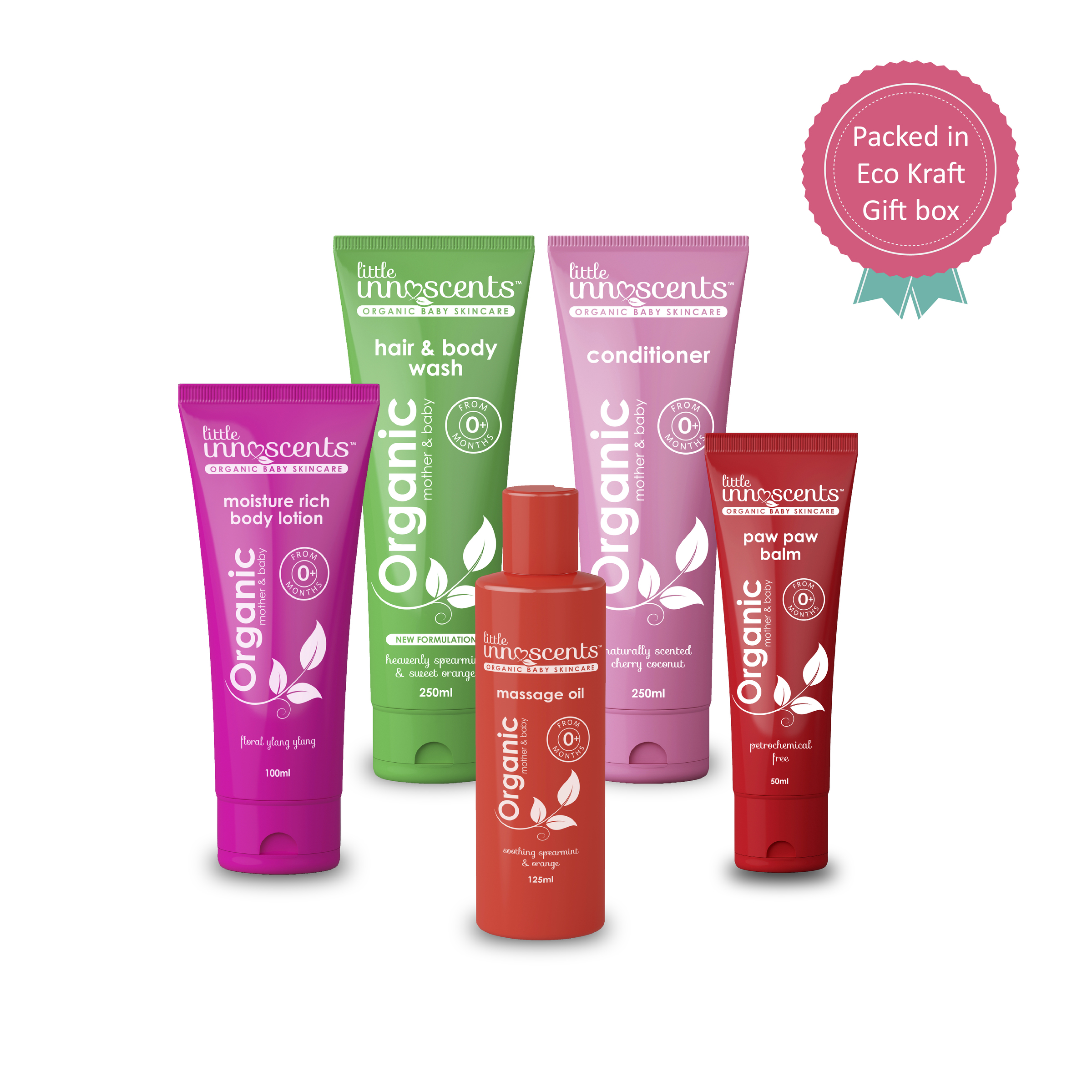 Little Innoscents Malaysia's Mummy Care Pack is perfect for mothers who are pregnant or even for mummies who are running around chasing after their little ones! This gift pack is also great as a gift for first time mum and birthdays. Get this divine product selection all packed up in a gorgeous Eco Kraft gift box.
Contains:
*Please add a remark on which Hair & Body Wash scent you would like during checkout.
Bathing & Cleansing
Use gentle, chemical free products such as our organic Hair and Body Wash that will not dry out the hair and skin.
De-tangle, replenish and smooth out hair with our organic Cherry Coconut Conditioner that doesn't strip away the body's natural oils.
Moisturizing
Keep skin well moisturized, with organic skin care products such as our Moisture Rich Body Lotion to avoid unnecessary drying of the skin that can lead to irritation.
Massage/Stretch Marks
Make your pregnancy or post-natal massage more therapeutic with our intensely hydrating organic Massage Oil, made of nutrient rich Sunflower and Jojoba carrier oils and divine smelling essential oils of Spearmint, Lavender, Lemongrass and Sweet Orange.
Apply this deeply hydrating Massage Oil on stretch mark-prone areas such as tummy, back and thighs after shower to prevent and alleviate stretch marks during pregnancy.
Breastfeeding Care
Our healing organic Paw Paw Balm is great to help with cracked nipples that tend to occur during breastfeeding. Perfectly safe for your little one as well! Just apply on the affected area a few times daily to heal and soothe cracked nipples.
Make-Up
Our multipurpose Paw Paw Balm can also be used as a lip balm for chapped lips or layer it over a natural lipstick for some extra glossy shine.